The many uses of Drone Photography around Brisbane
Drone photography around Brisbane is benefiting a wide range of industries that realise the benefits of using drones, or unmanned aerial vehicles (UAVs) as affordable aerial imaging platforms. Today's small and lightweight drones are ideal for taking high resolution photographs and 4K video.
Drones are being used to undertake a range of tasks that reduce operational business costs, increase productivity and reduce human health and safety risks. DroneAce has experience in commercial and real estate photography and are now using  small, lightweight drones equipped with high resolution cameras to capture stunning aerial imagery to help a wide range of clients meet their personal and business objectives.
Real Estate Sales & Marketing
Residential, industrial and commercial property real estate agents around Brisbane are using aerial drone photography to boost the profiles of their listing. No longer are property marketing campaigns restricted to just terrestrial or pole photography.
Why use drones in real estate sales
Drone are fast to deploy resulting in quick turn around aerial photography and when combined with stunning aerial 4K video, are the ideal tool for raising the profile of a property listing.
Drone aerial photography and video of real estate is a perfect addition to any sales strategy, especially when interstate or international clients are targeted. Show prospective buyers the property for sale from a whole new angle by providing elevated real estate photography that reveal scale of the property, shows how the property sits in its natural surrounds and indicate its proximity to landmarks, parks and shopping centres.
Drone photography can really help boost a property's profile.
Show the scale of the property
Display the property in the context of its surrounds
Emphasize the best features of a property and allow it to stand out from the crowd
Corporate Branding, Stock Footage & Fine Art Panoramas
Building a corporate brand or need to raise a company's profile. Use eye catching aerial images. Drones are used to capture on-location aerial photographs for corporate branding on websites, brochures, business reports and social media.
Looking for an impressive image for the Board room or blank wall at home? Drone panorama photographs are the ideal item. Our Gallery page has stunning examples of aerial drone panoramas captured around Brisbane that are available for licensing or as canvas prints.
Drone Mapping, the Future is Bright for Drones
Drone mapping, a process of using drones or UAVs to capture a sequence of overlapping images for further processing using specialised photogrammetry software is one of the most exciting and ultimately useful applications for UAVs today.
Drone mapping is changing the way aerial data is captured, analysed and distributed and is benefiting many industries across the globe including:
Agriculture & Forestry  – estimating plant health, weed encroachment, biomass and crop yield 

Civil Engineering & Survey work – rapid project documentation and comparing as built structure to design plans

Mining & Quarries – aggregate area volume calculations

Power & Utility inspection – Rapid, low cost power line and pipe inspections
Using aerial mapping services, stakeholders gain access to high resolution multi format GIS data for further visualisation, analysis and interpretation purposes all with a rapid turn-around time that is achieved more safely and at a fraction of the cost of traditional manned flights. Using drones as aerial imaging platforms can minimise the need for ground personnel, reducing downtime and improving human health and safety.
DroneAce undertook a trial drone mapping project at the Whites Hill Quarry, Brisbane using the the MavicPro micro drone. Forty six aerial photographs were captured and processed using photogrammetry software. The output included high resolution multi format GIS data used for further visualisation, analysis and interpretation purposes.
Orthomosaics - for GIS Applications
Digital Surface Model - Terrain Slope Analysis
3D Models - Visualisation & Display
Construction Monitoring & Work Progress
Using accurate autonomous flight  applications, our Unmanned Aerial Vehicle (UAV) drones can be rapidly and precisely deployed to take multiple images of construction works in progress for documentation and record keeping purposes. If required we can set the drone to take images at a specific GPS position or a number of positions so the images may be used to detail changes over time.
Safety, CASA Regulations for Drone Photography around Brisbane
Being  commercial drone operators with CASA registration, DroneAce always operates within the rules and regulations set down by Australian Federal Government legislation. CASA, the Australian commercial aviation governing body has a set of guidelines within which all drones pilots (both commercial and recreational) must operate, The key points are listed below:
You must not fly your RPA/Drone higher than 120 metres (400ft) AGL.

You must keep your RPA/Drone at least 30 metres away from other people.

You must keep your RPA/Drone away from prohibited/restricted areas.

You must keep your RPA/Drone at least 5.5km away from controlled aerodromes.

You must not fly your RPA/Drone over any area where, in the event of a loss of control or failure, you create an unreasonable hazard to the safety of people and property on the ground.

You must not fly your RPA/Drone over or near an area affecting public safety or where emergency operations are underway (without prior approval). This could include situations such as a car crash, police operations, a fire and associated firefighting efforts, and search and rescue.

You can only fly one RPA/Drone at a time.

You must only fly during the day and keep your RPA/Drone within visual line-of sight. This means being able to see the aircraft with your own eyes (rather than through first-person-view (FPV)) at all times.
Operations within the 3nm (5.5Km) radius of an uncontrolled aerodrome or helicopter landing site are possible and lawful providing you do not operate on:
the approach and departure path or

within the movement area or

create a hazard to aircraft that may be using those area
Controlled Airspace in Brisbane  – the shaded areas are Drone No-Fly Zones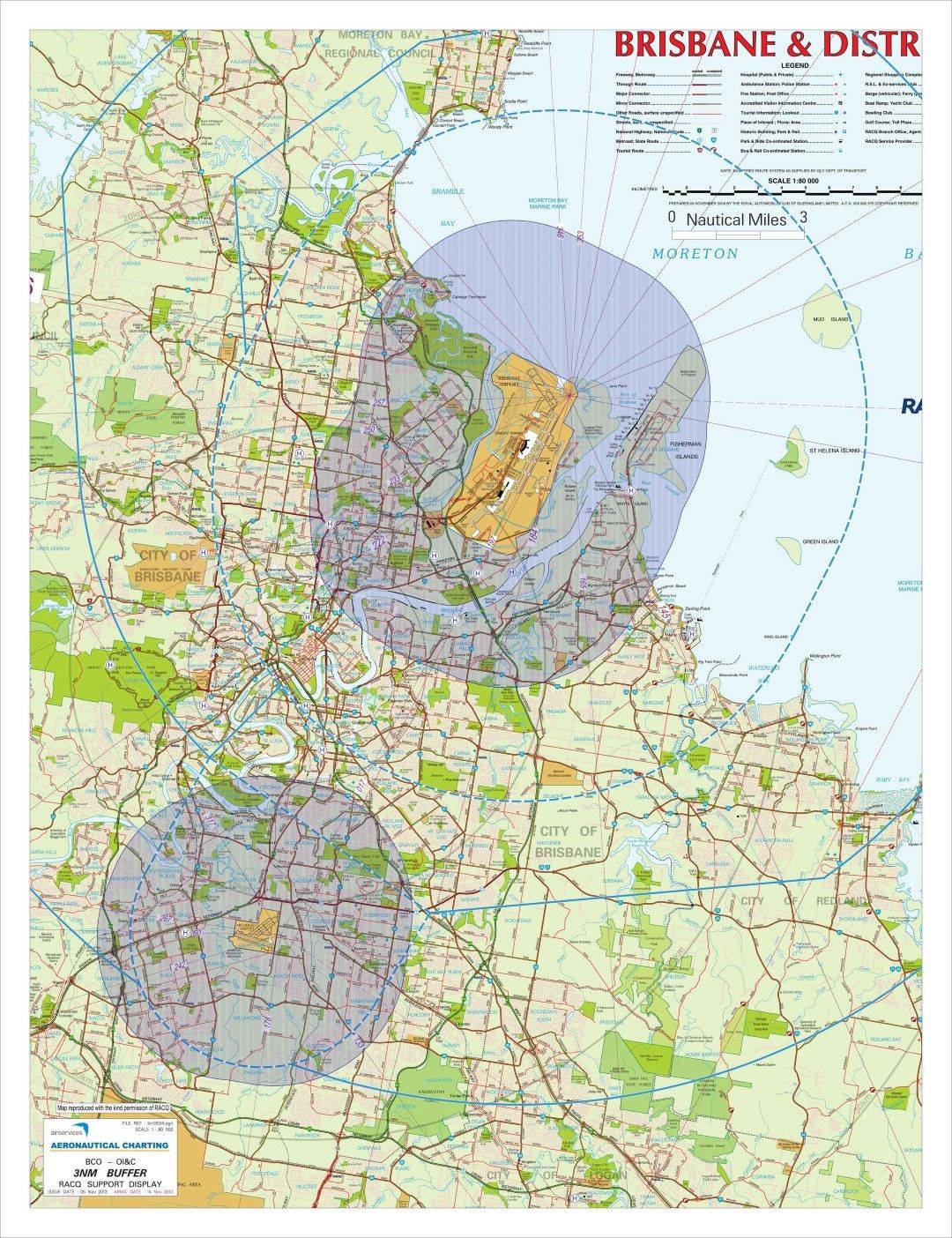 Aerial Drone Photography | Drone Mapping | 3D Modelling
Recent Blog Posts
Contact DroneAce
Are you looking for end-to-end unmanned aerial drone solutions for your project or business needs