Using the DJI MavicPro to take aerial drone panoramas around Brisbane
The first few months of 2017 saw Droneace busy undertaking a range of aerial drone panoramas projects in and around Brisbane and the Gold Coast region. We mainly utilised the DJI MavicPro, as it is the nearly perfect urban drone due to its small size, low noise output and portability and its ease of operation to take images for aerial panoramas. Aerial panorama photography is an ideal way to overcome the limitations of drones with fixed lenses, especially those with relatively narrow fields of view. We discussed this in a previous post on aerial drone panorama photography with the MavicPro.
Using Google Maps to identify public parks, we avoid flying over private property and roads and take advantage of the 3D functionality in Google Maps to undertake location scouting and pre-visualisations. Navigating in 3D in Google Maps provides a fairly accurate birds-eye representation of landscape or urban cityscape and gives an idea of possible compositional options.
Any organisation that needs to highlight an event, a location or a facility for print, web and social media branding purposes can benefit from aerial drone panorama photography. These include real estate agents, construction companies, educational facilities and golf courses.
Brisbane drone photography - aerial panorama video montage around Brisbane and South East Queensland
Broadbeach, Queensland Drone Panorama Photography
Broadbeach is a suburb located on the Gold Coast, one of Australia premier tourist destinations for interstate and overseas tourist looking for swimming, surfing, sun and beaches. With a number of areas of high rise apartments over looking the beach and sea, we picked an empty local park and used the MavicPro as a flying tripod.
Get the BIG picture with aerial drone panorama photography
The drone panorama was stitched using Autopano Giga, the output image having a field of view of 177 degrees by 55.6 degrees or 8791 by 3046 pixels, ideal for large wall prints. This compares to a single image from the MavicPro having a field of view of 78 degrees.

Use Google Maps 3D viewing capabilities for pre-visualisations
We used Google Maps to find a suitable launch point for the MavicPro and identified alternatives for landing the drone should the primary site be compromised. Using the 3D feature in Google Maps, allows drone pilots and aerial photographers to get a rough idea of the final panorama composition and camera angle alternatives.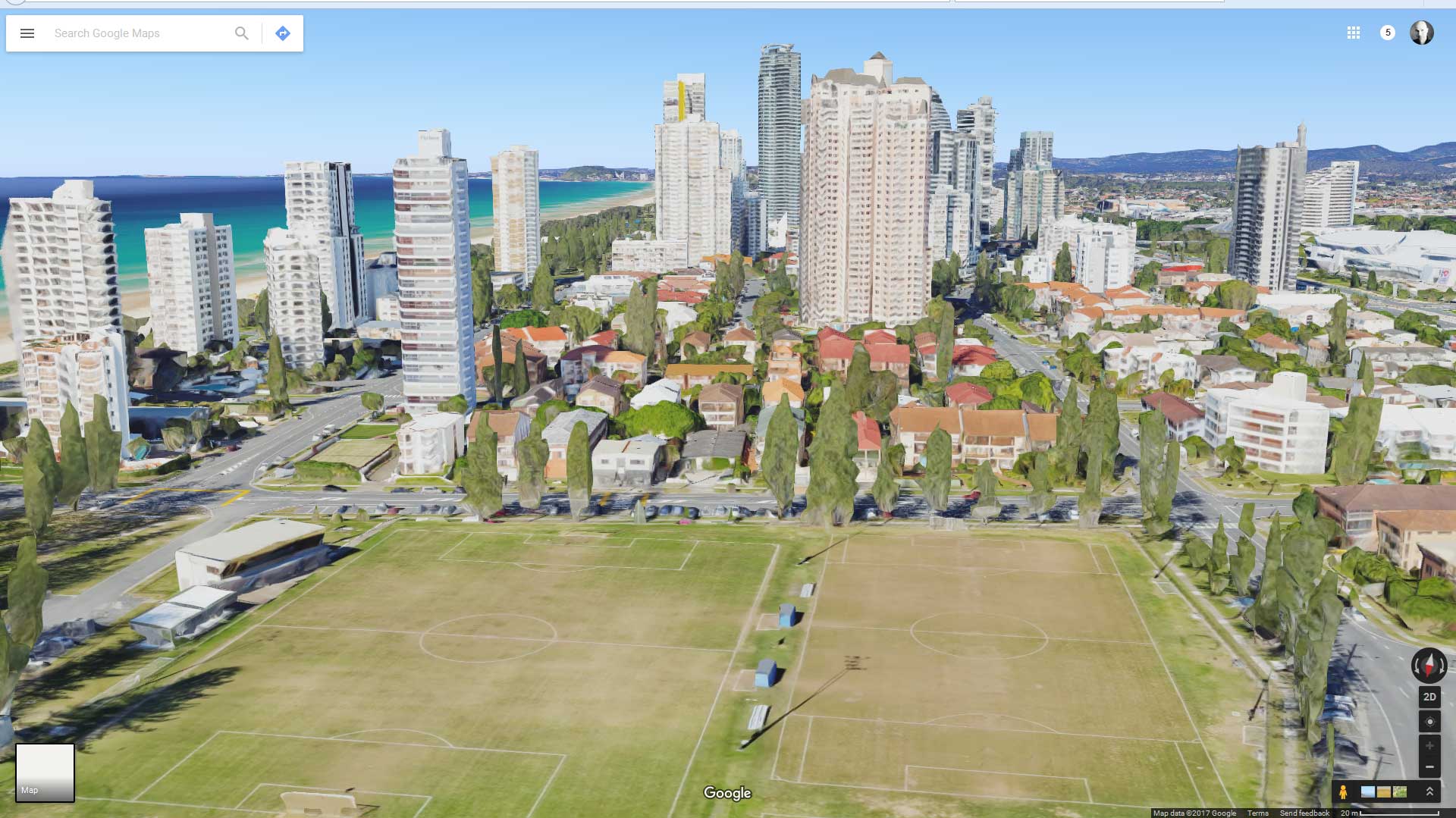 The 8 aerial photograph sequence captured by the MavicPro that went into creating the final panorama. Each photograph is 4000 by 3000 pixels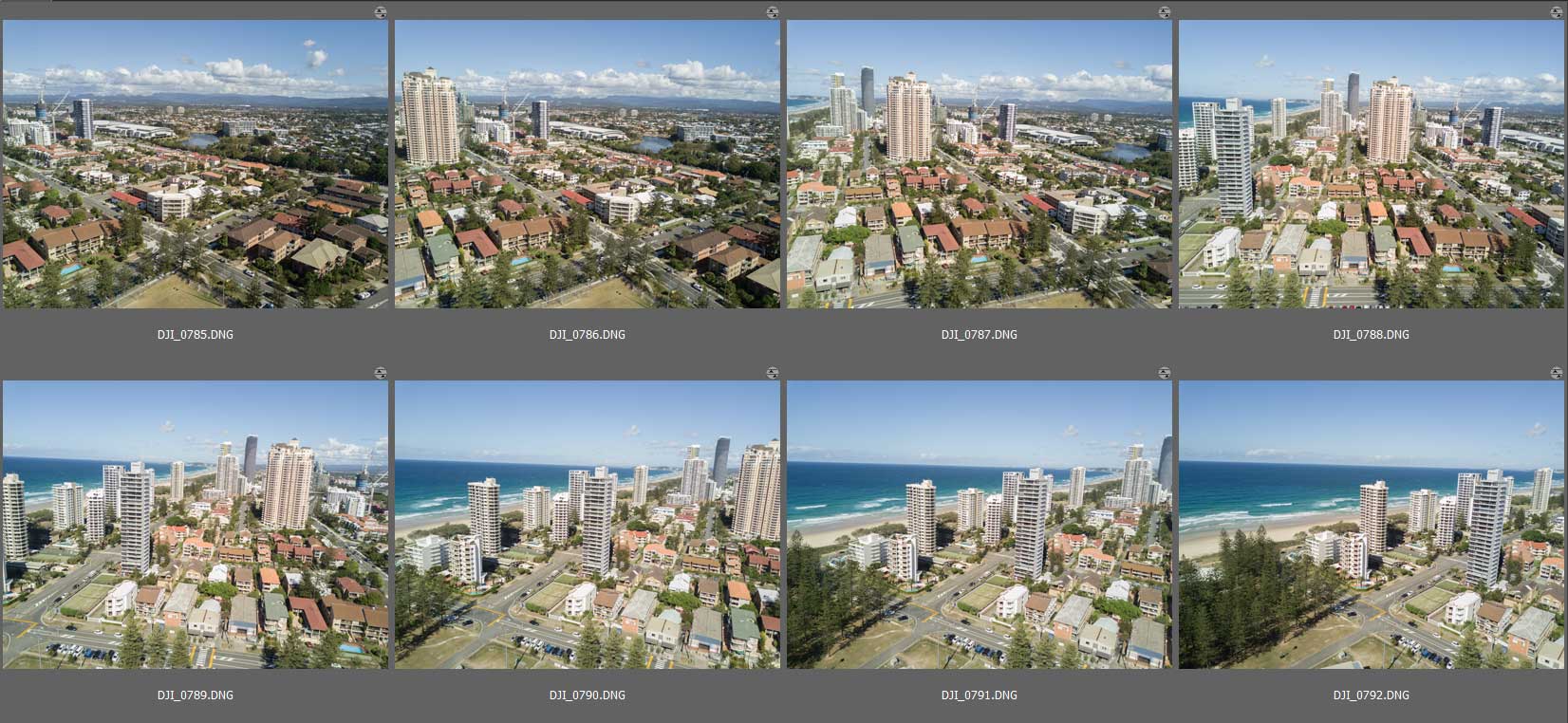 Drone Safety & Situational Awareness
When undertaking aerial drone photography, its important to have the mindset of "fly first" and "photograph second". The most important task is the safe handling of the drone. It is easy to get caught up in the taking of aerial photographs and get distracted by the impressive view just seen for the first time. However it is important to be alert to what is happening in the surrounds, not only in the air but on the ground as well. Maintain constant situational awareness. Always look at the telemetry on the drones' hand controller especially the critical done battery life, hand controller batter life and the GPS signal strength.
Drone Photographs for print & licensing
All photographs on the website are available for print and licensing. If you need areal drone panorama photography for an event, a building or location then please contact DroneAce via email or phone us on 0404 840 001.
More drone photography information on the Blog
Recent Drone Imaging Projects